2020
2020

2019
2019
2018
2018
2018
2018
2017
2017
2017
2016
2016
2015
2014
2013

2018
2014
Documentary
Documentary
Documentary
Short Film
Documentary
Documentary
Documentary
Documentary
Short Feature Doc
Short Feature Doc
Performance Film
Documentary
Documentary
Documentary
Short Documentary
Documentary


Sound Editor
Composer/Musician
David's films have screened throughout the United States, Canada, and Poland. All films are independently produced and distributed. If you are interested in hosting a screening or licensing part or all of a film, please fill out the contact form.
WILD HUMAN (2019)
Wild Human, the ninth feature-length documentary film from Pittsburgh filmmaker/artist/musician David Bernabo, investigates how humanity has replaced wilderness with representations of wilderness.
From maps to national parks to Sea World to nature photographs, humanity's designs for the world alter the context in which wilderness exists. The results can be harmless (a floral print dress), catastrophic (nuclear bombs), noble (maintaining national parks), or complicated (upsetting natural cycles of life and death while managing fires in Aspen). Falling somewhere between documentary, personal research project, podcast, and performance video, Wild Human uses unorthodox storytelling to indulge in philosophical questions, quirky history, and a bit of doomsaying in analyzing humanity's loss of wilderness and its piecemeal reconstruction.
A theme of iterative destruction, masking, and alteration of "the wild" arises when exploring topics such as hidden sites on Google Maps, virtual reality, ghost towns, and systems that damage or re-contextualize the natural world like war and the stock market. A diverse pool of media is utilized from Youtube fail videos to archival footage to beautiful sequences filmed during road trips through Colorado, Utah, and Arizona.
Wild Human incorporates interviews with artists Su Su, Anna Henson, Celeste Neuhaus, and Caroline Record, performances by musicians Patrick Breiner, Zoe Sorrell, Di-ay Battad, Devon Osamu Tipp, and discussions with Jon Barstow and the Pittsburgh Parks Conservancy's Gavin White. Curator Johanna Lasner, choreographer Maree ReMalia, and poet Jason Baldinger also contribute narration, in addition to Bernabo's narrated texts.
MOUNDSVILLE (2018)
Directed by David Bernabo and John W. Miller (2018).
"Moundsville" is the biography of a classic town, from the Native American burial mound it's named after, through the rise and fall of industry, to the age of WalMart and shale gas, and a new generation figuring it all out. Told through the voices of residents, the story covers an arc that includes Moundsville's Native American origins, white settlement, Marx toy plant (it made Rock'em Sock'em robots), legendary prison, first black mayor, post-industrial decline, and current small businesses. The constant is the mound, a Greek chorus reciting time's insistence on change. By reckoning with deeper truths about the heartland and its economy, without nationalist nostalgia, liberal condescension, or talking about Trump, "Moundsville" plants seeds for better conversations about America's future.
This film is funded in part by the Greater Pittsburgh Arts Council through the LIFT Grant.
Review: The Atlantic, Postindustrial
Buy DVD
In A Dark Wood: The Journey Through Mathew Rosenblum's Lament/Witches' Sabbath follows the process of creating composer Mathew Rosenblum's new concerto, from the writing phase to recording to the premiere performance.
eating & working & eating & working (2018)
Despite being literally visible, the conditions surrounding labor in the service industry are often unseen. Eating & Working & Eating & Working is a feature-length documentary film that follows seven people working in food from the being to the end of their work day. Along the way, participants discuss the joys and frustrations of working, the skills utilized in their labor, and the impacts of sexism, racism, and classism on their work environments.
Through a mix of stories and anecdotes, archival installation footage, and interviews with artists and razor-sharp co-directors Barbara Luderowski and Michael Olijnyk, Site-Specific: A History of the Mattress Factory presents an in-depth look at one of the first site-specific museums in the United States.
The documentary film follows Chef Tom Hambor and Dr. Brad Walter, owners of the Highland Park bakery Food Glorious Food, as they lead a small band of interested travelers through a culinary tour of Italy--Florence, Bologna, Montalcino, Siena, and Pienza. Maristella Cacciapaglia narrates this often quiet, beautiful, introspective film. (2017, 47 min)
15 Short Films About Legume (2017)
Made for Legume's 10 year anniversary, this film looks into the restaurant's history through interviews with past and present staff, farmers, and customers.
With a small cast, David Bernabo crafts a semi-autobiographical, mixed-media movement theater production that presents characters in parallel states. Forces both abstract and concrete push performers in and out of storylines as the audience is guided through a range of actions, false paths, and surprises.
This performance film is edited from five camera angles, three of which are performing camera persons, observing the dancers and musician on stage.
a four-film documentary analyzing Pittsburgh's food ecosystem from restaurants to farms to home cooks and points in between.
Chapter 4: the system (2016)
Food Systems, Chapter 4: The System completes the four-film Food Systems series with an in-depth look at home cooking, hunger, origins of poverty, and solutions to a growing food problem. Starting with the creation of a multi-course traditional Indian meal, the film examines how food and cooking shape community, family, and personal histories while also opening pathways to improving nutrition and food knowledge.
Throughout these discussions, Lidia Bastianich of the Lidia's restaurant empire reshapes leftover vegetables and stale bread into delicious new dishes. Open House PGH and the Borland Green Cooperative discuss how their intentional communities share cooking and gardening responsibilities to strengthen their communities.
But despite the fascinating developments in the alternative food movement, these emerging opportunities require some amount of privilege and access to food. What happens if your access to healthy food is limited? Just Harvest's Ken Regal, Felicia Lane Savage, and others discuss the history of hunger, posing the widespread issue as a symptom of poverty. After discussing the barriers to accessing food, emergency solutions like food banks and 412 Food Rescue along with longer-term educational efforts like Community Kitchen Pittsburgh and community gardens are surveyed.
But at the heart of food access issues is the neighborhood. Despite individual situations, it is often that a neighborhood is considered a food desert or a neighborhood lacks adequate transportation to areas with grocery stores.
With extensive commentary by Dr. Mindy Fullilove and Dr. Eva-Marie Simms, the impact of redlining and urban renewal on the Hill District is dissected, showing how external powers decimated the strong culture and community bonds that existed in the neighborhood. As Pittsburgh ramps up neighborhood redevelopment, adding food options, but altering existing culture, Chapter 4: The System aims to remind viewers that human capital, which is not always quantifiable, is worth more than money and that a new mentality is required to balance "progress" with quality of life.
CHAPTER 3: THE ECOSYSTEM (2016)
Food Systems, Chapter 3: The Ecosystem moves away from restaurants and focuses on farmers. Hidden Hills Dairy makes cheese. Laurel Hill Trout Farm provides a tour of the life cycle of farm trout. Founders of Penn's Corner Farm Alliance relive the early days. Downstream buyers Wigle Whiskey and Millie's Homemade Ice Cream show us their process. In addition to the craft of making different foods and drink, the film documents the challenges of farming - impacts from climate change, fracking, strip mining, and skyrocketing land prices to monocultures and their impact on diet and food pricing.
The film features discussions with Don Krestchmann, Margaret Schlass (One Woman Farm), Georgann Kovacovsky (Three Cheers Farm), Bill Fuller (Big Burrito), Zeb Bartels (Clarion River Organics), Mick Luber (Bluebird Organic Farm), Alice Julier (Chatham University Food Studies), Dora Walmsley (52nd St. Market), and many many others.
CHAPTER 2: DINNER ON THE FARM (2014)
Food Systems, Chapter 2: Dinner on the Farm takes a fly-on-the-wall approach to documenting three farm dinners. The Farmer's Table, run by chef Jacob Mains, sets up an ad-hoc kitchen on Jarosinski Farms and Lewis Family Farms. The restaurant, Avenue B, prepares a five course meal for the Churchview Farm Dinner Series. Tara Rockacy of Churchview Farm discusses changes in the Pittsburgh restaurant scene and her approach to farming.
CHAPTER 1: A NIGHT OUT (2015)
Food Systems, Chapter 1: A Night Out is a film that charts the history of Pittsburgh restaurants from the late 70s to today, from the introduction of French cuisine to the integration of world flavors and local food sources. Along the way, universal topics like the steps to open and run a restaurant, restaurant life, how class impacts restaurant choice, gentrication, sexism in the industry, and labor trends are discussed. Pittsburgh's food scene has expanded exponentially in the past five years, but the changes relate to changes in food across the country. This film shows the passion, energy, and innovation that contribute to a growing food culture.
Ongoing Box:
A Film About Process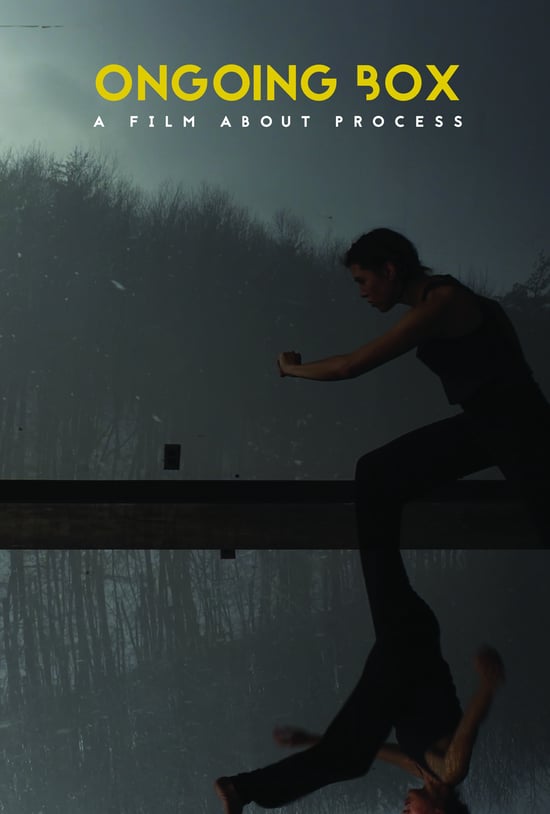 Ongoing Box, the debut documentary from musician/artist David Bernabo, details the role of process in the arts with several Pittsburgh-based artists. Conceptual artist Lenka Clayton creates new works in her "Artist Residency in Motherhood" series while movement theater artist Mark C. Thompson works with miming and sculptural movement for a piece on predation. Blaine Siegel works across mediums to develop new diamond-shaped paintings, a dance installation, and a large video work. The definition of "artist" is also expanded to include Kevin Sousa, chef and owner of Union Pig and Chicken, Superior Motors, and formerly Salt of the Earth, as he forages the formerly steel-infused neighborhood of Braddock, PA for wild edibles. Through studio works-in-progress, performance, interview, and filmed experiments with smoke/motors/ice, the film documents a cultural landscape that revels in new collaborations, new work, and a strangely freeing lack of commercial expectation. Other participants include choreographer Maree ReMalia, painter Stephanie Armbruster, photographer Garret Jones, and luthier Raymond Morin (of Pairdown).